As we age, volume loss and alterations in our skeletal structure are major components of the changes we see in the mirror. These changes can begin as early as the late 20's! We can see
subtle loss of volume or fullness of the cheeks, and alterations in the areas around the eyes and in the corners of the mouth. As a result, shadowing occurs that makes the face look slightly
weary, sad, unapproachable or harsh. In our 30's, progression of the changes include the loss of volume in the lateral face and temples; these accentuate the look of fatigue contributing to
jowling and sagginess of the lower half of the face. In addition, skeletal resorption and shrinking adds to this overall aging of our appearance in a person in their 40's.
Fortunately, modern techniques in facial rejuvenation can help restore facial anatomy to a more youthful, rounded and restful appearance. In the past, patients relied on facial surgery or
facelifts to reposition and improve this saggy look. Over the past couple of decades, the importance of treating shrinking fat compartments and structures has been better understood.
This has resulted in targeted restoration of facial anatomy and a very natural looking "face lift",  using injectable dermal fillers. And this is all without surgery, downtime or anesthesia!
In our practice, we routinely get "surgical results" using a combination of fillers, and neuromodulators which target fat reduction for double chin and jowl contouring. These
techniques along with skin resurfacing procedures provide for a complete, cohesive and natural looking restoration.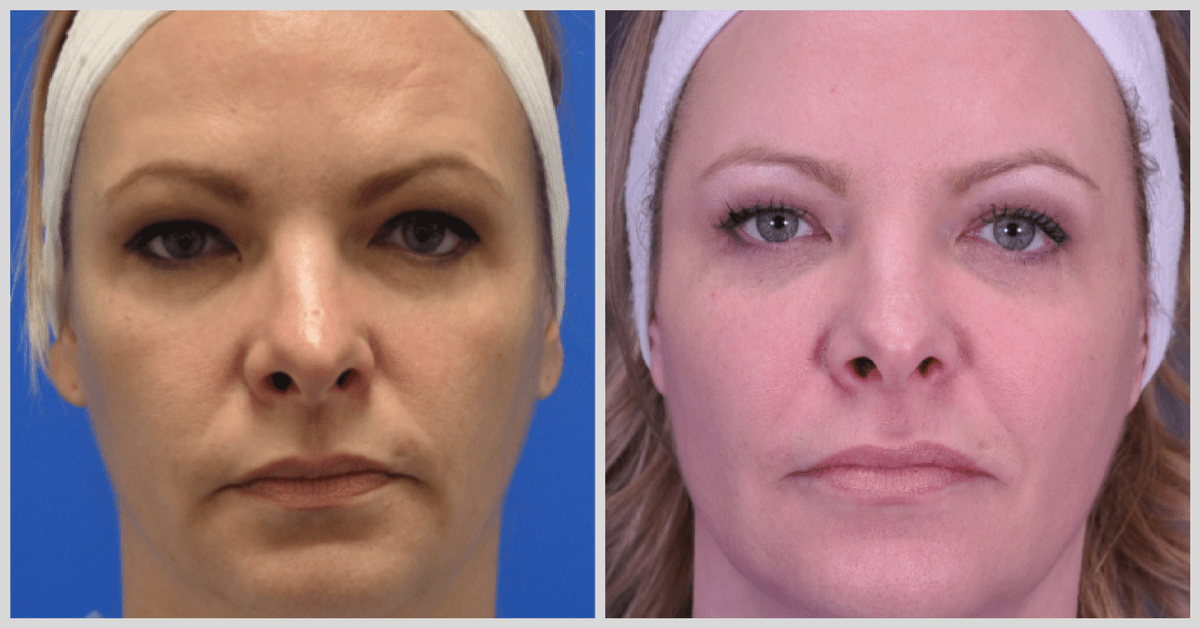 Achieving a natural look requires the availability of many different types of fillers since each has differing qualities of thickness, viscosity, elasticity and firmness. We carry several brands of
hyaluronic acid fillers as well as biostimulators such as calcium hydroxyapatite fillers. This allows us to pick the best product for each patient's skin type, skin quality, age and aesthetic
goals.
We often use hyaluronic acid, which is a gel-like substance, that is present in the skin, soft tissues, eyes and other areas of the body. It has been used in many applications in medicine
such as in eye surgery and in joint treatment for decades. It is very well tolerated and comes in many different densities of gel. The thinner gels are used in the surface layers of the skin for
fine lines and in areas near the eyes where the skin is more fragile. The thicker gels are used to support areas like the cheeks and re-contour saggy skin along the jawline since these can be
injected deeper in the face. Brand name examples of hyaluronic acid fillers include Juvederm, Volbella, Belotero Volume, Teosyl, Restylane and Perlane.
We are also skillful in the use of biostimulators which work by acting as a filler in addition to stimulating the body to create collagen (support tissue) in the area of injection. Brand name
examples of biostimulators include Radiesse and Sculptra.
Facial aesthetics is a perfect combination of technical expertise, artful assessment and a vision of restoration and "natural look" one is trying to achieve. Having the right "tools" is key in
helping the artist create the best artwork, especially on a complicated and personal canvas such as your face. "Beauty is in the eye of the syringe holder!" so make sure you work with someone
who shares your vision and can skillfully restore you to your best appearance!