Stop the Clock for your Skin? Stanford study shows that BBL can.
Delivering light energy into the skin has been shown over the years to improve skin tone, texture and pigmentation.  Delivering this light in a way that is safe and effective has been a challenge and often, treatment modalities have not been safe for darker skin types. Sciton has produced a Broad Band Light delivery system with integrated, controlled cooling that makes the procedure safe for Asian and darker skin types without compromising efficacy.  In fact, a recent study done at Stanford University showed that Sciton's Forever Young BBL protocol can actually improve and modify the genetic expression of your skin!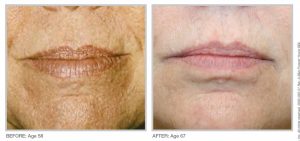 As skin ages, many genes are turned off and others are turned on.  These changes make it more difficult for the skin to resist photodamage and damage due to oxidation.  These genetic switches result in poor quality collagen formation, textural changes and pigmentation irregularities that create an aged look.  In 2013, Drs. Chang and Bitter, in conjunction with the Stanford Department of Dermatology,  discovered that delivery of Broad Band Light in specified doses and using a specific technique resulted in an improved genetic profile in the skin of those subjects treated.  The skin of subjects that had been treated with the Forever Young BBL technique was examined.  They found that 1293 genes that were altered in ageing skin were completely restored to their youthful function after three successive treatments.  In addition to this improvement on a genetic level, subjects that had received 2 to 4 yearly treatments with BBL over a course of 7 to 11 years were assessed to be younger than the age they started treatment years ago by 491 independent clinicians.  Their skin was younger on a genetic basis and they looked younger too!
Learn more about BBL here.